I heart the holidays! It awakens all my senses. The colors, the smells, the flavors…just yummy!
I know the holidays have officially arrived when my favorite latte flavors show up at Starbucks....This year, I have traded in my latte budget for baby formula - I'm happy to do it!
But I don't have to sacrifice one of my favorite parts of the season. I searched the internet and found some wonderful holiday latte recipes. It also helps that they are easy on the budget!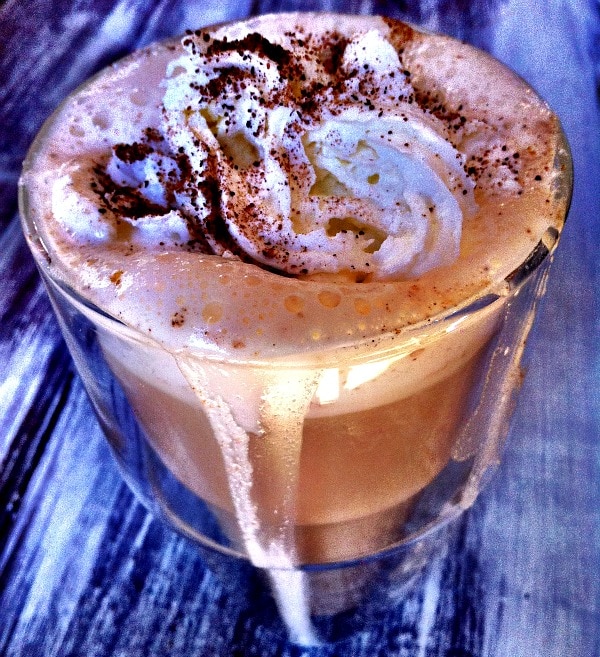 Ingredients:
1 cup hot brewed, strong coffee
1/2 cup whole milk
1 tablespoon unsweetened canned pumpkin puree
1 teaspoon packed light brown sugar
1/4 teaspoon pumpkin pie spice
1 teaspoon vanilla extract
2 tablespoons half & half cream
1 teaspoon granulated white sugar, or more to taste
whipped cream, optional
ground nutmeg
Directions:
1. In a glass measuring cup or microwave-safe bowl, whisk together milk, pumpkin, brown sugar, spice and vanilla. Microwave for 1 to 2 minutes- watch closely and remove it from the microwave when the milk is hot and frothy.
2. Pour the pumpkin milk into a tall mug or glass. Add hot coffee. Pour in the cream. Add a teaspoon of sugar. Stir, and taste. Add more sugar, if desired.
3. Optional, but oh so good... add whipped cream on top and a sprinkle of nutmeg. Serve immediately!
~~~~~~~~~~~~~~~~~~~~~~~~~~~~~~~~~~~~~~~~~~~~~~~~~~~~~~~~~~~~~~~~~~~~~~~~
Ingredients:
2 shots espresso OR 1/2 cup of double/triple concentrated coffee
2/3 cup eggnog
1/3 cup milk
sugar
*optional whipped cream and nutmeg


Directions:

Pour espresso/concentrated coffee into a mug and add steamed eggnog/milk mixture. If you prefer your eggnog latte sweeter, add a little sugar. Top off with whipped cream and a pinch of nutmeg. Happy Holidays -Enjoy!
*If you don't have an espresso machine, do what I do most often. Just warm your eggnog/milk mixture in the microwave. Cook times may vary but I prefer heating mine for 2 minutes.

Stay Sweet!